Marketplace Simulations Updates: Summer 2023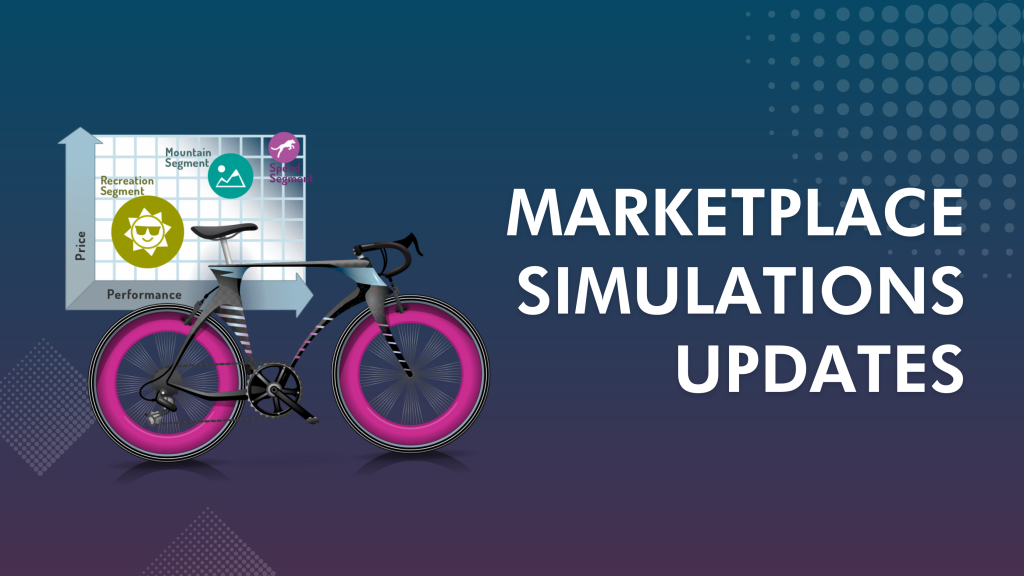 The new semester is starting soon, and we're excited to launch a bevy of updates to improve your experience. As always, please feel free to contact our support team with any questions. We're here to help seven days a week!
Let's dive in!
New Bikes Levels
We have two new levels in our Bikes catalog: Business Management and Advanced Strategic Corporate Management.
In the Bikes storyline, advanced 3D printing technology has made it possible to print customer carbon fiber bikes. Students receive seed capital to build production facilities, open stores, hire workers, design brands, and more. They'll also deal with demand projections, production scheduling, and overtime. After a year in business, students get the chance to invest in R&D and launch improved products.
Level Renamed
Introduction to Accounting has a new name: Managerial Accounting. All content in this level will remain the same. We simply hope that this new name will help more professors find the best product for their classes.
Play Site Domain Change (Coming Soon)
Soon, we will be changing our play site web address from game.ilsworld.com to play.marketplace-simulation.com. This will allow our gameplay URL to match our main website, marketplace-simulation.com.
All usernames and passwords will remain the same. Your existing account will continue to function as usual, but you will access it at play.marketplace-simulation.com.
If you use Marketplace Simulations via a learning management system (e.g. Canvas, Blackboard, etc.), this change will not apply to you.
We will send an email with more details when this change takes place.
Student Software Improvements
The Demand Projection menu item will move to the Sales Channel section. The student in charge of Sales will be responsible for projecting total demand for the quarter.
A new Demand Impact Factors report will provide a quick comparison of the main demand-driving decisions between the current and last quarter to help students with the demand projections.
Students will be able to project demand for the next quarter in the Sales Channel section. This will be useful for planning fixed capacity expansions.
Production Workers' Productivity Projections will appear in the Human Resources section (applicable to games with the HR module). The student responsible for HR will be able to project this data for the student in charge of Manufacturing.
The Cost of Production screen will now display the total projected demand. This will make it easier to estimate the current quarter's production costs.
The Production Simulation screen will allow students to adjust the projected demand as a percent value. This will make the process of running multiple demand scenarios quicker.
Language Updates
We're excited to add the following translations to our simulation catalog:
French
All existing French translations have been updated.
German
All existing German translations have been updated.
Polish
International Corporate Management – Bikes
All existing Polish translations have been updated.
Portuguese
Conscious Capitalism – Bikes
All Microsimulations
All existing Portuguese translations have been updated.
Spanish
Business Management – Bikes
All Microsimulations
Bug Fixes
Marketplace Competitive Simulations
In simulations where Brand Production is fully driven by Pricing decisions, the Final Check now displays a link to Pricing instead of Brand Production.
Regional manufacturing related changes have been added to the main results in the Excess Operating Capacity item.
A new "Excess Operating Capacity" line item has been added to instructor software in the Results screen.
A new Capacity Utilization and Lost Capacity has been added to instructor software in the Detailed Results screen.
Added clarity to Balance Sheet table labels. The upper "Total" is now "Total Assets." The lower "Total" is now "Total Debt and Equity."
Check Ad Claims screen now indicates when an ad is not being run in the media. Previously, such an ad was marked as truthful, which could change after placing it in the media.
Teams who choose not to purchase Market Research reports for the next quarter will now receive a warning.
Accounting screen now includes detail to better explain the depreciation calculation.
Javascript no longer crashes when teams have no brands for production.
A Quarter 6 lecture in Introduction to Marketing no longer mentions "investments in the future" because this feature does not apply to this simulation.
Maximum ad design limits and web sales staff limits for Venture Strategy – Bikes and Introduction to Marketing – Bikes have been clarified in the fatal error glossary.
Players who have not submitted feedback before the last quarter may do so now in the last (results only) quarter.
The Competitor Profiles Report that summarizes market research information is now available after the first sales quarter. Previously, it was only available after the second sales quarter.
The Sales Report in Introduction to Marketing is now available after the first sales quarter.
We have added a new help file chapter about Financial Ratios. The link has been added to the corresponding Financial Ratios Lecture.
Assessment scores will be graded on every save operation so that students receive a grade even if they do not complete the assessment.
Students who join the game after the assessment is created (and real game custom data added to the assessment) can now proceed through the assessment as normal.
Microsimulations
All screens will now be properly announced by assistive technology.
Activity time recorded in the activity log now matches student activity data.
Assets column in Fundamentals of Accounting now responds to clicks every time.