A Professor's Mission to Bring Conscious Capitalism to Kenya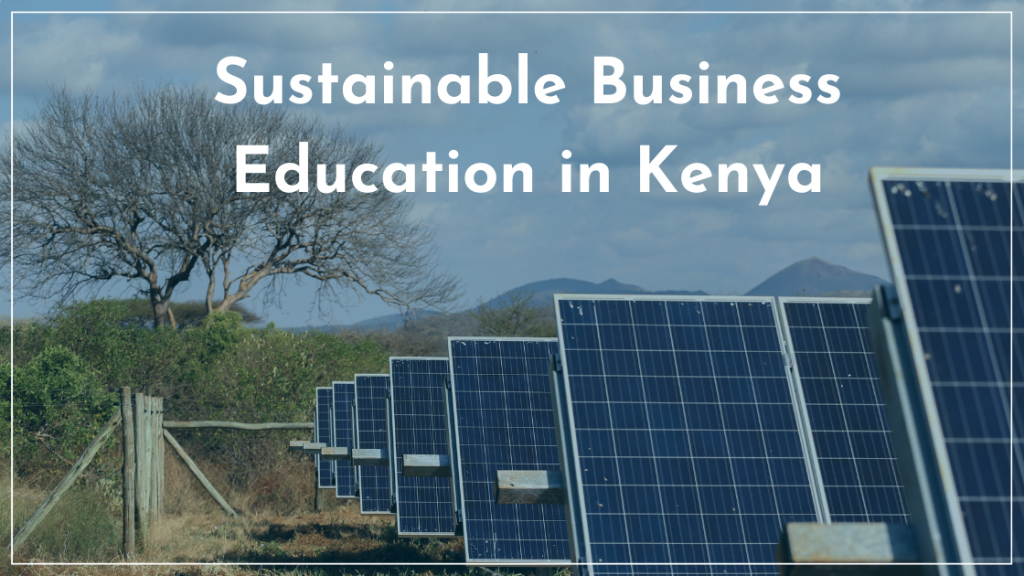 How do you get a nation to adopt sustainable business education? Kenyan professor Dr. Teresia Kyalo has been asking this question for six years. This week, she's flying to New York City to find answers at the PRME Global Forum.
PRME (Principles of Responsible Management Education) is an initiative to reach the UN's Sustainable Development Goals (SDG) through business education. These goals include critical issues in Kenya, such as climate action, eliminating poverty, and restoring ecosystems.
The PRME Global Forum has invited faculty, students, and other leaders to come together on June 13 and 14. Together, they'll discuss how SDGs should shape business education.
Kyalo is attending as a sponsored guest of Marketplace Simulations, a PRME Global Forum partner.
"I would want to come back to Kenya armed with knowledge that I can share with my faculty members … to see the best ways to introduce [responsible management] into our teaching methodologies," Kyalo says.
The Kenyan Push for Responsible Management Education
Environmental impact is one of the key issues Kyalo wants to address among students.
Kenya's agrarian economy has been battered by extreme droughts, floods, and deforestation. In 2016, the nation responded by enacting a climate change action policy in 2016. However, business schools are still figuring out their role in this plan.
"We realize that most … climate change and the environmental degradation is being caused by our business practices," Kyalo says.
In 2017, Kyalo found a tool that could help reverse those trends. She traveled to Knoxville, Tennessee, to attend a Marketplace Simulations workshop.
Alongside other professors, Kyalo played the Conscious Capitalism Simulation. The immersive business game is built on the Conscious Capitalism® philosophy. This framework proposes that business is a morally good endeavor that works best when it serves all stakeholders.
"When I came back, I was very, very interested in introducing this concept to my university," Kyalo says.
Unfortunately, Karatina University's online learning program was severely limited. It wasn't until 2020 that COVID-19 made online learning an essential investment. With increased internet access, Kyalo saw her opportunity.
Training Students in the Conscious Capitalism Simulation
Kyalo began training students in the Conscious Capitalism simulation in 2021. Her students loved the game. They said it was the best thing that could happen to a business class.
Students played on teams to build simulated businesses. With each round, they saw how their decisions affected stakeholders.
"We can produce students who will not only fit in the industry but also understand how … what they do will impact out there—not only in terms of business but also in terms of the environment," Kyalo says.
Four of Kyalo's colleagues played the game in online workshops. They eagerly discussed how its lessons could apply to an agrarian economy.
In recognition of her efforts, Marketplace Simulations is bringing Kyalo and two of her students to the PRME Global Forum. Forty students from Karatina University competed for a place on the trip.
Inspiration at the PRME Global Forum
The Global Forum will be PRME's first in-person gathering since 2017. Marketplace Simulations is bringing 10 students and three professors. They'll hear from thought leaders such as Conscious Capitalism® cofounder Dr. Raj Sisodia. The students will also help showcase the Conscious Capitalism Simulation to faculty.
"One of the biggest things they are looking forward to is to see … how can we share Marketplace Simulations and specifically Conscious Capitalism," Kyalo says. "They want to showcase it to the world that it is doable. … It can be adopted in any business environment."
Ultimately, Kyalo hopes to return with inspiration for her own nation. She's eager to share strategies "that will not only look at business as a profit-maximizing event but also an opportunity to give the incentive to give back to the environment."
Attend the PRME Global Forum online for free. Register for livestreams of the main stage, virtual networking opportunities, and virtual booths.