Assurance of learning
Accrediting bodies such as AACSB, ACBSP, EQUIS and others emphasize the importance of measuring how well the learning objectives of a marketing or business course are being met. The goal is to improve the effectiveness of the curriculum, enhance the students' learning, and foster quality and consistency in education. Our Assurance of Learning solutions, when used alongside the Marketplace Live simulation, provide you with a great platform to assess your students' individual and team performance as well as their learning progress.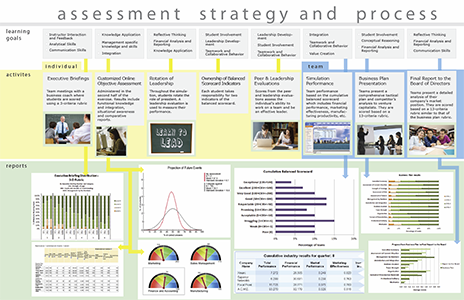 To facilitate the compilation, analysis, and interpretation of the assurance of learning data, we provide you with a set of rubrics. These rubrics are designed to help you assess your students' performance on a number of activities that can be overlaid on a Marketplace business simulation. The description of these activities and the learning goals that can be assessed are extensively discussed in literature available to instructors upon login.
In addition, we have designed specifically for the Marketplace® business simulations a Customized Objective Learning Assessment tool.
This assessment tests your students' ability to:
Use the tools of management to understand the firm's position in the market
Perceive, comprehend and predict the business conditions within which they compete
Understand their current and future conditions within each functional area
Develop an integrative perspective on business
Reports to students include a dashboard performance report. Instructors benefit from detailed performance reports as well as comparative reports.
How Marketplace contributes to Assurance of Learning
Value of Learning
"…educational programs are structured to ensure consistent, high-quality education for the same degree programs regardless of differences and changes in technology and delivery modes. This commitment to consistent high quality is especially important in light of pressures to shorten degrees and time for learning, interaction, and engagement in developing skills." (AACSB Standards 2013)
When overlaid with value-adding activities, the Marketplace simulations can provide your students with a 360° learning experience. Executive Briefings, Business Plan and Final Report presentations, our Customized Online Objective Assessment, Peer Evaluations, and the performance on the simulation (based on a Cumulative Balanced Scorecard) allow you to assess both team-based and individual performance. The variety and practicality of the activities included in the exercise help you achieve a myriad of learning goals, such as problem-solving and reflective thinking, student involvement and engagement, integration, data analysis, knowledge application, communication skills, instructor interaction and feedback, and so on.
Student-to-student and student-to-faculty interaction
"…curricula will facilitate and encourage frequent, productive student-to-student and student-to-faculty interaction towards achieving learning goals. Successful teaching and learning demand high levels of interaction between learners, as well as between teachers and learners." (AACSB Standards 2013)
As your students work in teams, they are encouraged to discuss trade-offs, options, alternatives and contingencies.
You, as the instructor, can play the devil's advocate and challenge their thinking. These types of interactions come naturally in the realm of a business simulation. In such environment, your students' learning progress can be assessed and measured at different stages. The learning trends you discover can be used as observations that may trigger programmatic and curriculum adjustments to improve the quality of your students' education.
Experiential learning engagement
"…curricula facilitate and encourage active student engagement in learning. In addition to time on task related to readings, course participation, knowledge development, projects, and assignments, students engage in experiential and active learning designed to improve skills and the application of knowledge in practice is expected." (AACSB Standards 2013)
Our simulations provide a great platform upon which your students can apply knowledge, develop managerial skills, and experience the challenges of business in a risk-free environment.