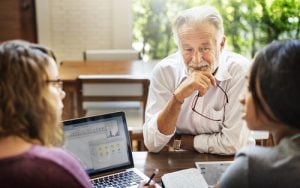 In a previous post, 5 Teaching Methods to Maximize the Learning Potential of Business Simulations, we outlined how to structure an entire class around a business simulation to maximize students' learning and real-world experience. The five teaching methodologies listed in this previous post from February, are big changes from what you'd expect to see in a traditional classroom. In today's blog post, we decided to flip this perspective and examine the topic from a student's perspective.
We posed open-ended questions about the value of various parts of the business simulation class to 40 students and their volunteer business coaches. We asked them the pros and cons of the pedagogy, role of business coaches, executive briefings, and our executive briefing rubric. On the whole, students were positive about all aspects of the business simulation course but often found it challenging to adjust to the emphasis on self-guided, critical thought.
Here are some of their comments in each of the key areas.
Pedagogy
"Some feel uncomfortable with ambiguity and the fact that there is no right or wrong," observed one business coach working with students. "Others begin to challenge themselves further and come to you with not only the reasons and the rationale, but also the impact and that is the greater goal for this course."
As we'd expect, most students mentioned the hands-on experience and interactive nature of the simulation as strong points. While many students dreaded to have to work in teams, they found that the set-up of the business simulation course was actually conducive to developing teamwork skills.
Business Coaches
Students had more confidence and respect for their instructors in their roles as business coaches, but the change demanded more of students in the learning process. One student said, "Normal instructors help us solve something while a business coach gives us some ideas or tips that push us in the right path so we can solve it ourselves. Which, in my opinion, is a lot more challenging and a better learning experience than just being given the answer."
Executive Briefings
Several students commented that they did not like the executive briefings at first because they were unsure of their decisions. One student said that through the executive briefings he realized that for his entire college career his professors had told him what to do and what to think. "This was the first time I was thinking for myself and that felt good," he said.
Executive Briefing Rubric
Unsurprisingly, the grading rubric was the most contentious aspect of the business simulation course for students. Most found the rubric helped set expectations but said that it would have been even more valuable if they were given additional information regarding why they received their score. Structuring your rubric around a comment and explanation section is an easy way to ensure that your students get the most out of it.
You can read a full report of the survey's findings, as well as the results of a pre- and post-simulation confidence assessment in this peer-reviewed article: Enhancing the Value of Simulations in the Classroom