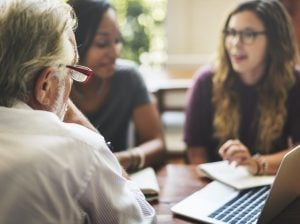 Are you hoping to incorporate a business simulation into your course this semester, but struggling to build a pedagogy around it? Here are five proven methodologies to make the most of business simulations and reinforce your learning objectives.
1) Become a business coach
Business simulations provide a unique opportunity to develop students' critical-thinking skills. But to leverage their full potential, your role must shift from instructor to mentor. As a business coach, you can help students see the bigger picture without indicating the right decisions. When you periodically challenge their thinking and analysis, they learn why certain strategies and tactics succeeded or failed in a simulation, and they can improve quickly.
2) Incorporate executive briefings
To make the most of simulations, students should review their current performance, SWOT (strengths, weaknesses, opportunities, and threats), ongoing strategy, new tactics, and financial projections with business coaches at regular intervals. Conducting these periodic check-ins as executive briefings simulates the type of staff meetings that students will encounter in the workplace, further preparing them for business careers.
3) Assess critical thinking and provide formal feedback during executive briefings
Determining whether students can think on their feet and respond to challenges in a thoughtful manner can be a daunting task. Creating a formal rubric to assess their breadth of understanding, depth of understanding, and their use of data in strategies lays out specific expectations and reinforces learning objectives. Giving them the rubric beforehand and providing detailed feedback helps students improve and sets them up for success in the simulation.
4) Make a business plan one of their key assignments
After students have had a chance to test a few strategies and tactics in the simulation, ask them to create a comprehensive business plan. To make the experience even more true to life, invite other professors, graduate students, or ideally business professionals to stand in as venture capitalists judging their plans. This exercise forces students to develop a formal strategy for the simulation, work through the details, and present and defend their business plan as they would in a start-up environment or when presenting a project request to supervisors.
5) End the simulation with an investor's report
At the end of the simulation, invite the business plan judges back for a final report. Students should recap their performance in key areas, account for their actions during the simulation, and evaluate their ability to compete in the future. This gives them the opportunity to reflect on what they learned and apply it to future management—a key parallel to performance evaluations in the business world.
With these methods in place students can make the most of their business simulation, and your classroom can become a full experiential learning setting.