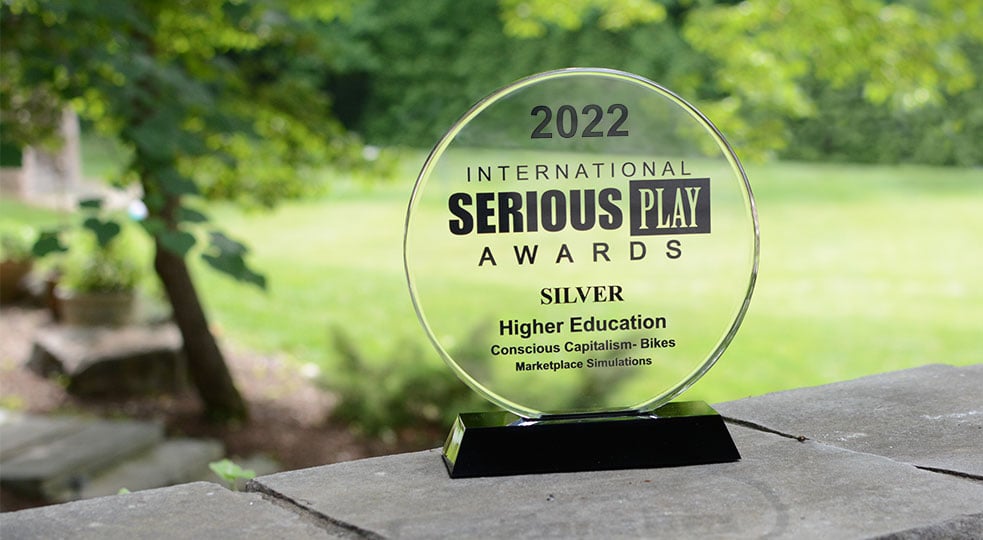 Marketplace Simulations has received international acclaim for its efforts to develop more conscientious, purpose-driven business leaders. The company's Conscious Capitalism – Bikes simulation won a silver medal at the 2022 International Serious Play Awards. 
In the one-of-a-kind simulation, students work in teams to build competing carbon fiber bicycle companies. Together, they manage marketing efforts, production capacity, human resources, and more, working to build their bottom line while enriching employees, customers, stockholders, and even the local community. Meanwhile, they also face a variety of ethical challenges, relating to employee morale, reputation, and product reliability, as well as environmental and health concerns.
The International Serious Play Awards honor outstanding educational and training products that incorporate game elements. Entries are judged on engagement, interactivity, learning objectives, assessment, aesthetics, gameplay, and orientation. However, Conscious Capitalism – Bikes is far more than just a slick simulation.
In recent years, the business education world has increasingly called for better tools to develop socially responsible leaders. Conscious Capitalism – Bikes aims to answer that call.
Marketplace Simulations CEO Dr. Ernest Cadotte designed the simulation in partnership with the nonprofit Conscious Capitalism, Inc. Led by Dr. Raj Sisodia, the organization is a growing movement of business leaders who work to empower humanity through capitalism. Today, more than 50,000 students have actively learned Conscious Capitalism® principles through the simulation.
"Simply telling students to be part of the solution will not serve the purpose," wrote Sri Sri University professor Bindu Agrawal in a recent Harvard Business Publishing article. "It's easy to agree to be a conscious business leader in principle, but doing so in practice is very difficult."
With the help of the Conscious Capitalism® simulation, professors around the world are empowering students to embrace the challenges of conscious capitalism and build a better future.
To learn more about Conscious Capitalism – Bikes, contact the Marketplace Simulations support team at 865-522-1946 or visit the product page.