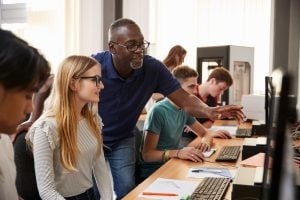 Have you thought about using simulations?
Maybe you've seen your colleagues incorporate simulation edtech tools into their classrooms successfully. Maybe you've read about them online. Maybe you have so much on your plate at the start of the semester, you can't even imagine making a big change.
We've heard from our instructors that using simulations has made their life easier and their classroom time more impactful.
Here are nine reasons why you should incorporate a Marketplace Simulation into your business or marketing class starting this fall semester, and most importantly, how they'll make your life easier.
Easy to use for both you and your students
Marketplace is a web-based application, which you and your students can access from any computer or tablet with internet connection without the need for downloads or installation. As an online simulation game, Marketplace offers an easy-to-use interface that guides the student every step of the way. Coupled with a comprehensive help file, the Marketplace support center handles the mechanics of running the simulation, allowing you to focus on teaching.
Expose students to realistic business situations
Business simulations help prepare students for decisions and situations that are commonly encountered in real-life business. As a result, students grasp the key business concepts quicker and understand the results of their actions better. Students will leave your class better prepared, giving them a huge advantage when it comes time to enter the workforce and start their careers.
Automated grading
As an instructor, you probably spend enough time on grading. Marketplace Simulations come with an automated grading feature that will save you time. Our simulations allow you to pick from three levels of grading difficulty – easy, intermediate, and difficult. Learn more about our Assurance of Learning solutions.
Diversify the Teaching & Learning Experience
The standard routine of lectures can sometimes be monotonous and may negatively impact a student's concentration and your classroom evaluation scores. Adding a simulation or microsimulation to your curriculum provides a refreshing outlet of learning through online roleplaying of realistic business scenarios. Students enjoy competition, have fun learning, and cover the essential business concepts – all within the context of game play.
Team collaboration
Help develop your students' soft skills through real-time team collaboration. A crucial part of a student's future success is being able to work well with a team and make decisions with them. With chat, email, and a teamwork monitor built directly into the student software, Marketplace business simulations make online collaboration easy and enjoyable. Your students will learn leadership, communication, and compromise as they figure how to make decisions together. Who knew a simulation could help cultivate the business leaders of tomorrow?
Increase knowledge retention
Research shows that students remember only about 20% of what we tell them in the classroom. But when they learn-by-doing, they retain 80% of the knowledge. When your students make realistic business decisions in a business simulation and immediately see the results of their actions, the important business principles become a part of their natural thinking.
Commitment to Student Accessibility
At Marketplace Simulations, we believe in accessibility. Our job is to make sure that all students can easily, equally, and independently engage with our simulations. We have re-engineered our business games to meet the new design standard – WCAG 2.0 AA. Don't take our word for it, watch this professional assessment on the recent enhancements made to our online simulations.
Help students understand the big picture
Our simulations integrate all of the functional disciplines of business, helping students grasp the big picture of how a business operates. These exercises help students understand the nuances of marketing, operations, finance and accounting, and management. The exercises teach the connection between these unique areas o business, demonstrating how a decision in one area can cause an effect in another.
Add excitement to the classroom
Shouldn't learning be as much fun as playing a game? Business simulations are interactive and challenging business games that keep students engaged throughout the entire learning process. The strategic virtual business environment entices them and adds a whole new level of excitement to your classroom.
Still on the fence? Take the time today to schedule a personal tour with one of our product specialists. Our team of experts can guide you to the best simulation for your class and get you up and running in no time. Now is the perfect time to Discover the Marketplace Difference!