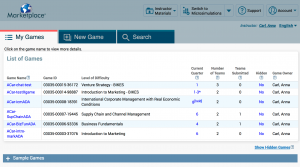 In the upcoming months, we will be gradually updating the instructor site. This is a part of our continuous effort to make the tools we provide more efficient, intuitive, and easier to use.
The first set of improvements will focus on the site's navigation. We listened to your feedback and have streamlined the navigation to make it easier to find what you need.
One of the first changes you will notice is the tabs across the top of the screen. These will give you quick access to your existing games and let you create new ones. Once you choose a particular game, a single side menu will give you convenient access to all the game-specific reports and tools you need.
What will improve?
Ease of use: all game-specific options will be consolidated into a single menu
Quicker access to information: reports will display within the main page, rather than open in new windows or browser tabs, making it easier for you to keep track of what you are working on
Accessibility: the site will meet the latest accessibility standards
Consistency: the instructor site's navigation will be more consistent with the student software
These changes will also set the stage for future improvements that will make the instructor site work better across all devices and screen sizes, so you can monitor your games and students on the go, from your phone.
We will be releasing the site's navigation updates later this month. Please don't hesitate to contact our support team if you have any questions.