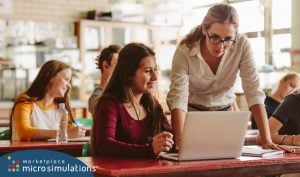 Are you searching for a new program that supplements your existing course material in a fun and interactive way? Instead of competing with technology, Marketplace Microsimulations allow you to embrace it and engage your students.
Here are six reasons why incorporating a microsim is a great way to engage students in an experiential classroom.
1. Diversify the Teaching & Learning Experience
The standard routine of lectures can sometimes be monotonous and may negatively impact a student's concentration. Adding a microsimulation to your curriculum provides a refreshing outlet of learning through online roleplaying of realistic business scenarios. Our business simulators cover essential course concepts with the enticement of a game.
2. Quick and Easy to learn
Our microsimulations work as a web application and require no downloads. It takes about 15 minutes to learn everything you need to know and to set up the exercise.
3. Wide Variety of Microsimulations
Marketplace has multiple microsimulations, allowing you to pick the exercises that best align with your existing course material. The exercises cover business fundamentals such as product design, internet marketing, accounting, and profitability. As an instructor, you can choose a topic that matches your specific course concept or you can combine multiple microsimulations for your students to explore different business concepts.
4. Students Learn at Their Own Pace
The microsimulations allow students to complete the exercise at their own pace and repeat it until they master the subject and reach perfect score.
Students can complete the microsimulations on their own time, allowing the class to be used for discussion and lecture. This flipped classroom model saves you time and enhances class participation. There are only so many minutes in a class period but now they can be used to go over key concepts in-depth.
5. Enhance Knowledge Retention
Research shows that most students only retain 20% of the information taught in the classroom. However, they retain 80% of information from hands-on practice. Marketplace Microsimulations require active learning from the students. This allows them to understand the course material in a dynamic way, through first-hand experience.
6. Customize to Your Course
After you choose your specific simulations for your students, you can set the due dates to match your class schedule. The instructor's dashboard allows you to monitor your students' progress and performance.
Our short, game-like microsims will engage your students and encompass the creative teaching methods you seek as an instructor. Experiential learning is one of the best practices in teaching because it helps both you, and your students.
We are so confident that you will be satisfied with the results that we are inviting you to try one of our microsimulations today at no charge. Discover your students' full potential next semester with a bundle of interactive Marketplace Microsimulations.