The educational value of using business simulations
Why use business simulations? Experience.
Interesting lectures, hands-on lab sessions and relevant case studies are the necessary elements of a well designed business course curriculum. But isn't this mix missing one important ingredient? What is the one thing that most college classes can't provide?
Business simulations allow students to apply newly acquired theoretical knowledge in a simulated business world. Your students can gain hands-on managerial experience by running their own business in a safe game-like environment.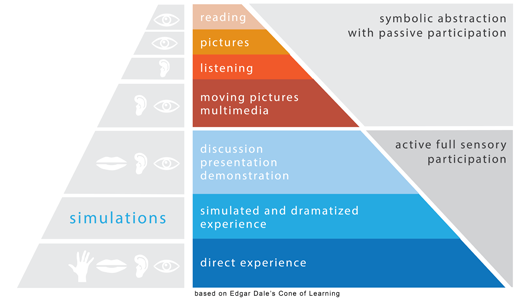 Simulation pedagogy
Create a microcosm of the firm by including all key business or marketing functions – students must manage a whole firm or whole marketing division.
Start at beginning of story – a new adventure.
Gradually layer in new decision content as it becomes relevant in life of firm – a natural progression that is more intuitive.
Frequently repeat difficult decisions in order to set important concepts, principles and ways of thinking into the students' natural thought process.
Create a story-line that is interesting and relevant to the student in the role of an entrepreneur
Reinforce a process for making good decisions

Present a logical order to the decisions to be made
Present relevant information before a decision
Link decisions to cash flow and profitability

Encourage a balanced perspective on the management of the firm – the Balanced Scorecard
Almost 100% of the comments made on instructor evaluations regarding the Marketplace business simulations have been positive and some students have inquired about playing the simulation game again. I strongly recommend trying the Marketplace business game series.

Michael T. Elliott, Associate Prof. of Marketing

Experiential Learning
Through an experiential learning approach, Marketplace simulations enable your students to develop hands-on skills in marketing, management, accounting, finance, and manufacturing.

Timely delivery of content
The disciplinary content is delivered at the point in time when students are faced with a new decision, thus increasing its relevance and the students' motivation to acquire this new knowledge.

Accountability and forward thinking
Students live within a simulated business world of their own making. Today's decisions were shaped by yesterday's decisions, and tomorrow's decisions will be shaped by today's.

Understanding the big picture
Marketplace integrates all functional areas of business. It enables students and managers to understand how the pieces fit together as a coherent whole. In a series of decision periods representing quarters of compressed time, student teams choose a business strategy, evaluate tactical options, and make a series of decisions with profitability in mind. Each decision round has decisions which take the students through the business life cycle.

Strategic thinking and competitiveness
The Marketplace exercise requires strategic thinking and team dynamics while using a combination of strategic business instruction, compelling market challenges, and a true-to-life simulation. The consequences of the students' decisions are quickly reflected in the simulated business world. Students learn to adjust their strategy to become stronger competitors.

Financial responsibility
The aspirations of the student teams are always constrained by the availability of cash and the firm's profitability. By constantly dealing with these constraints, students discover how their decisions affect the company's cash flow and profitability. This also motivates them to search for ways to expand cash and profit. As a result, they develop a keen understanding of financial management.

Extended case
The exercise may also be viewed as a series of related decisions or cases that extend over time and organizational function.

Interconnectedness of the disciplines
Students deal with the interplay between marketing, operations, finance, accounting, and team management. They see how their decisions and actions affect the performance of others within the company and the entire organization. They learn to understand the linkages among the functional areas of business.

Disciplinary detail
The issues and decisions the students deal with are at the tactical level of an organization. This tactical detail provides disciplinary depth as well as cross-functional dimension to the learning experience.

Customer driven
Financial success can only be reached by fulfilling the needs of the customer. Even though customer satisfaction does not guarantee financial success, financial success is not possible without customer satisfaction.

Meaningful context
Business principles, terms, practices, and ways of thinking are employed within the natural context of starting up and managing a business. Abstract ideas become grounded in real-to-life decision-making.

Teamwork, interpersonal skills, leadership
The complexity of the Marketplace simulation requires a division of the tasks and coordination among the team members. The many trade-offs force debate where students must learn to communicate effectively and fight for their ideas.

Critical thinking
Students discover, and are forced to consider, the many trade-offs inherent in every business decision. They also find that "correct" answers do not exist. What is a "good" decision depends upon the circumstances at the time.

Repetitive exercise
Each quarter's activities not only result in new decisions and new material being introduced, but also build upon the prior content. The repetition ensures that difficult principles, concepts, and practices are assimilated into the natural thinking of the students.
Sound teaching methodology
The teaching methodology behind the Marketplace business simulation was created by Dr. Ernest Cadotte, Fisher Professor of Marketing at the University of Tennessee in Knoxville. Dr. Cadotte collaborated with a dozen faculty peers from around the world to create a robust simulation model. His goal was to cover the essence and interplay of every functional area of business with maximum realism. This simulation model has been refined for over 30 years, making it one of the most sophisticated business simulation models available today.