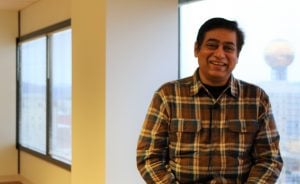 At Marketplace Simulations, we love receiving feedback from our customers and learning more about each of their individual experiences with our simulations. Each instructor practices a unique teaching methodology when incorporating a simulation into their course. Hearing from them firsthand provides us a better idea of how we can continue to improve the user experience for all of our customers.
We had the pleasure of speaking with Dr. Rajnandan "Raj" Patnaik, Professor of Strategy and Dean of Academics at the Institute of Management Technology in Hyderabad, India. Dr. Patnaik has been using Marketplace Simulations for several years and he graciously shared valuable insight with us about his experience.
Dr. Patnaik has been a loyal Marketplace customer for quite some time, but before choosing Marketplace, it took a while for him to find a product that matched his specific needs as an instructor. When asked about why he chose Marketplace Simulations, he explained, "I've tried so many simulations, some being quite topical, and some comprehensive like Marketplace. The best part about Marketplace is it gives me the flexibility to wrap the simulation around my course, which is a great thing. It's all doable and a great pedagogy."
When testing out different products, Dr. Patnaik also considered the student appeal of each simulation. "Compared to other comprehensive simulations, Marketplace seems to be a lot more vibrant, at least to the students. The screens are attractive, while other simulations are a bit drab."
Coaching Students to Succeed
Dr. Patnaik went on to mention the well-rounded experience that Marketplace Simulations provides for his students. "With Marketplace, students can quickly see the results and outcomes of their decisions. This is not always possible in any other forms of pedagogy that we use, including case studies and project work. It creates an environment that allows them to take risks, and as a result guides them to learn from their failures."
Teaching students to learn from their failures is an extremely important concept when it comes to preparing them for the real world and improving employability. We were curious to learn more about how Dr. Patnaik practices this teaching methodology while still maintaining a hands-on approach with his students. In order to find the right balance, Dr. Patnaik notes the importance of earning his students' trust not only as a teacher, but also as a coach. "When I first started, it was tempting to actually do things for students when they needed help. But later on, I realized the faculty shouldn't be doing it for them. As a business coach, I would tell them to try new things and show them ways to come out of their failures."
Marketplace Venture Capital Fair
Dr. Patnaik noted another important highlight of Marketplace, the opportunity to conduct a Venture Capital Fair. This unique component allows students to present a business plan to a group of venture capitalists in order to gain additional funding for their firm. "The Venture Capital Fair is a time when the transition from entrepreneurship to corporate management occurs. I get venture capitalists from the real world, and the students explain their strategic plan and financials. The venture capitalists always look for a discount, and that's where the negotiations come in. These negotiations teach students a lot because it's something they've never done in the whole of their business education."
Commitment to Continuous Improvement
To conclude our conversation, Dr. Patnaik kindly praised Marketplace's commitment to continuously improve our products.  "The makers of Marketplace listen to students' feedback and take it very seriously. They are always trying to figure out ways to improve the standards. It's the very quest they are living for and it's wonderful."
From all of us here at Marketplace Simulations, we would like to thank Dr. Patnaik for speaking with us and sharing his unique perspective as one of our valued customers.