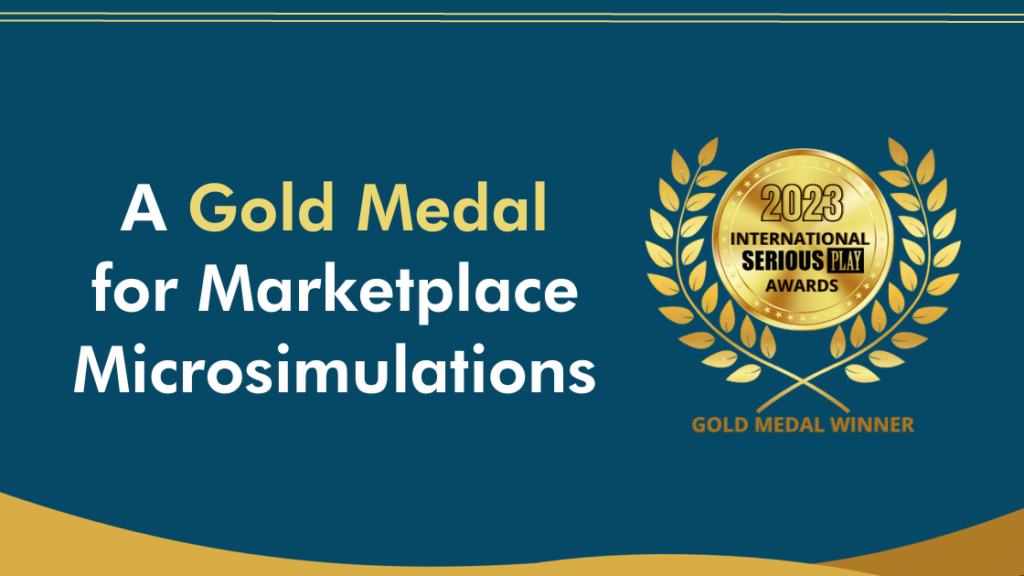 We are proud to announce that Marketplace Microsimulations has received a gold medal in the 2023 International Serious Play Awards.
The International Serious Play Awards honor outstanding educational and training products that incorporate game elements. Entries are judged on engagement, interactivity, learning objectives, assessment, aesthetics, and gameplay.
"Receiving this award fills us with a deep sense of pride because it acknowledges our ongoing efforts to improve education, something we're genuinely passionate about," says Martin Klima, lead developer at Marketplace Simulations.
Engaging Students with Microlearning Theory
Microsimulations are built on microlearning theory, pioneered by Dr. Hermann Ebbinghaus. The theory posits that dividing large topics into small chunks of learning can improve engagement and retention. With this in mind, each Microsimulation targets one key business concept and can be completed in 10 to 20 minutes.
Students engage with each Microsimulation through videos and interactive exercises. In one simulation, students use customer insights to design a new mountain bike. In another, students examine accounting reports and uncover the source of imbalances. These practical exercises help students quickly understand the real-world value of each lesson.
Microsimulations can be played on their own or paired with Marketplace Simulations' competitive business games. Over 570,000 students have explored business principles through Microsimulations since their launch in 2018.
The 2023 International Serious Play Awards
The International Serious Play Awards are an effort of the Serious Play Conference, a gathering for professionals who want to elevate their skills in the use of game-based learning. Speakers from across the globe share their experience creating and using games in a wide variety of settings.
Serious Play Awards honor those who use the engaging elements of games to improve education. Judges come from a variety of backgrounds, including higher education, game development, and training. The games entered serve industries such as higher education, K-12 education, healthcare, nonprofits, and more.
---
It's easy to add Microsimulations to your class. Play a demo or talk with our team to set up your personal product tour!