Strategic e-commerce
This simulation illustrates the business concepts of the e-commerce environment. Your students launch a company that will be able to market and sell its products online.
They will experiment with various strategies and tactics that can help improve effectiveness of their web stores and build a successful and profitable company.
Content
The participants learn about the differences and tradeoffs between the traditional and web sales channel, and between traditional marketing and web marketing. The decision content also includes:
Product Development
Human Resource Management
Fundamentals of finance, accounting and operations
Storyline
Your students are about to start an e-commerce company that will enter the microcomputer business. They will be a totally integrated company that does it all from web site management to marketing to production to human resource management. They will have limited financial resources and complete accounting responsibility. Your students will be provided with the seed capital to start their e-commerce business. They will be able to use this money to set up a web center (or a traditional brick-and-mortar sales channel), design brands and build a factory. They will have a year and a half to get their e-commerce company off the ground. Within this time frame, they should become a self-sufficient firm, earning substantial profits from its operations.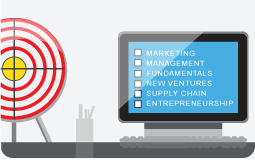 Target Courses
e-commerce
Time Frame
6 decision rounds, with each round taking 1½ to 2 hours per student.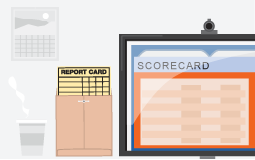 Grading
Grading is based on the balanced scorecard that measures profitability, customer satisfaction, market share in the targeted market segments, human resource management, asset management, preparedness for the future and wealth.
---
Play Options
Your students can play against their peers.