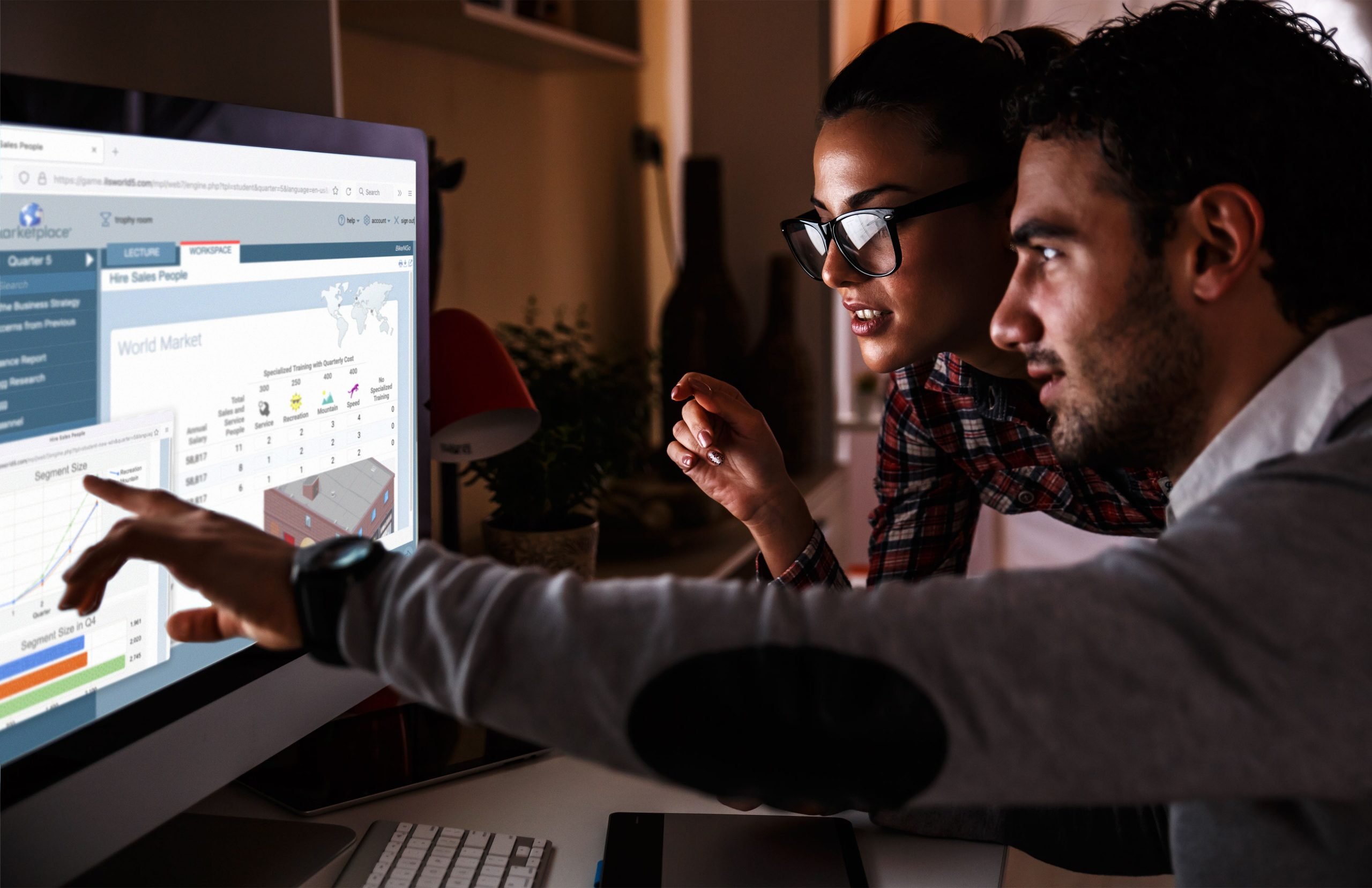 Prepare a sus estudiantes de negocios para el trabajo.
Agregue una herramienta de aprendizaje experiencial galardonada a su plan de estudios.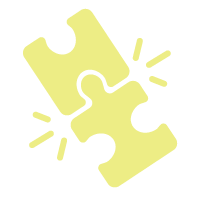 Simulaciones para que coincida con su plan de estudios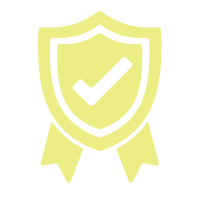 Asegurese que los estudiantes estén aprendiendo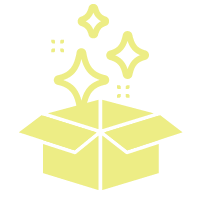 Fácil de instalar y gestionar
Utilice la competencia para impulsar el proceso de aprendizaje
Las simulaciones de Marketplace Live elevan continuamente el listón a través de la competencia cabeza a cabeza. A medida que construyen nuevos negocios, sus estudiantes se desafiarán unos a otros con decisiones inteligentes, sorprendentes y receptivas. Para mantenerse a la vanguardia, tendrán que aplicar continuamente el conocimiento de formas intrincadas, desarrollando habilidades de forma natural e internalizando los principios comerciales básicos.
Ayude a los estudiantes a internalizar el conocimiento empresarial
Prepárelos para los trabajos del mañana
My job as an educator was transformed once I adopted Marketplace. I've never enjoyed teaching more than when I'm able to utilize a Marketplace simulation as a teaching tool. With the variety of levels, modules, and computer and bicycle versions, I've used Marketplace to teach Intro Marketing, Marketing Management, MBA Marketing, and a Business Analytics Strategy class. Students really enjoy the engaging, value-added learning that accrues.

Ken Gehrt, Universidad Estatal de San José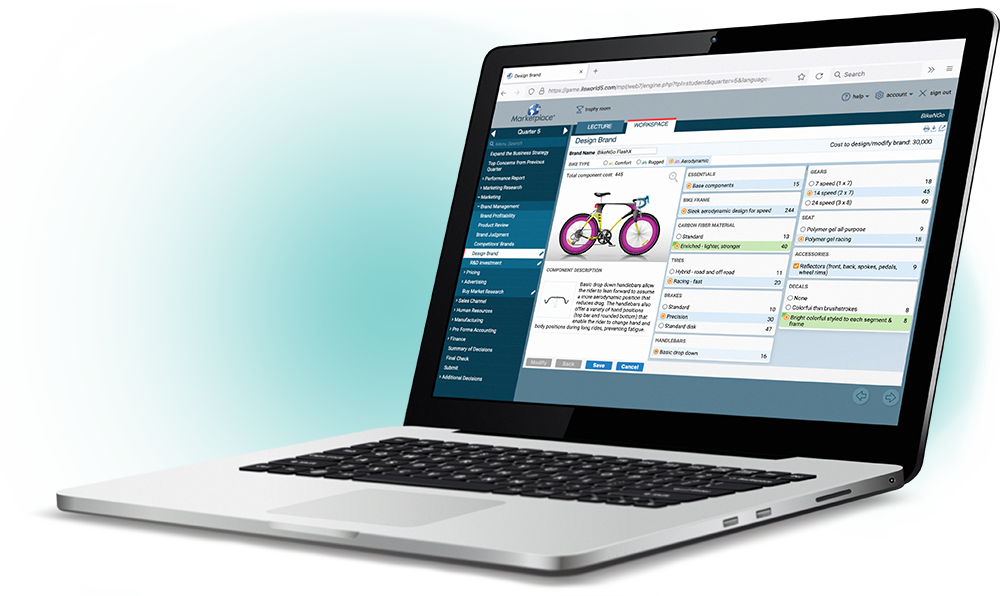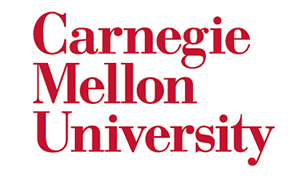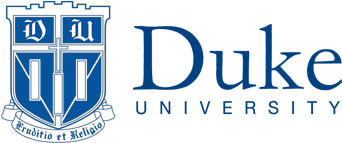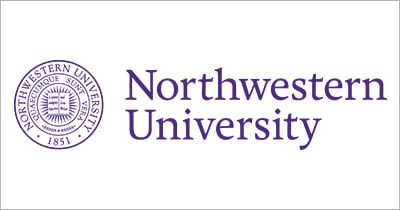 Una familia de simulaciones basadas en la nube visualmente ricas
Las Simulaciones de Marketplace son una familia de más de 30 simulaciones de negocio y de mercadeo diseñadas para cursos universitarios de negocios y programas ejecutivos de negocios.
La metodología de enseñanza detrás de los juegos de negocios de Marketplace fue creada por el Dr. Ernest Cadotte, Profesor Fisher de Mercadeo en la Universidad de Tennessee en Knoxville.
Explore Artículos publicados del Dr. Cadotte sobre la pedagogía detrás de las simulaciones de negocios educativas y el aprendizaje experiencial.
I use marketplace simulations in every marketing class I teach. Everything in this simulation is best in class. The pedagogy. The rationale behind the game. The support team. The experience. I believe modern marketing fundamentals are taught best by doing, not just by lecture. The Marketplace Simulation experience reinforces what I teach in my classroom. Students in the game do everything real life marketers do, and they love competing against each other.

Thomas Elmer, Universidad de West Chester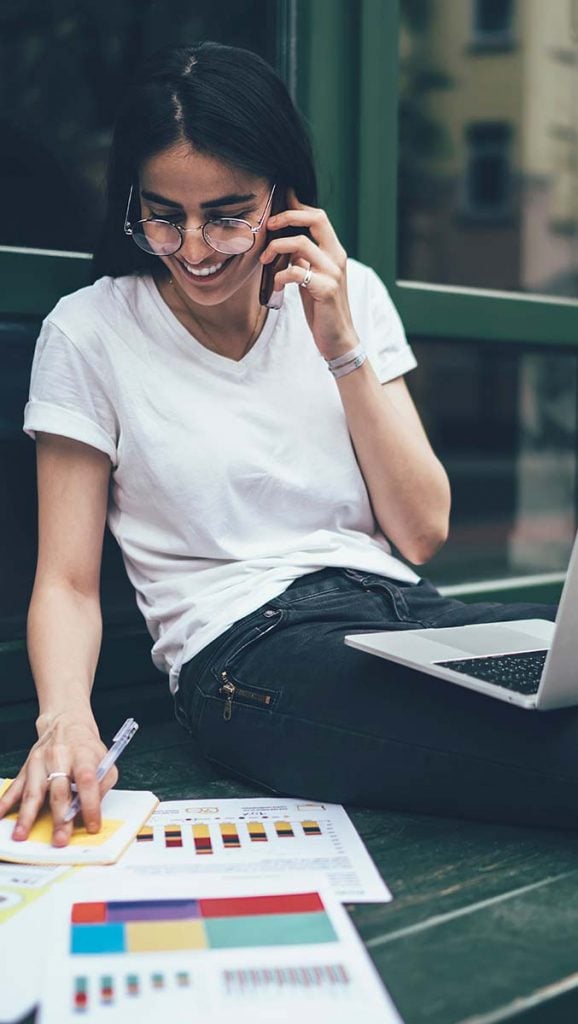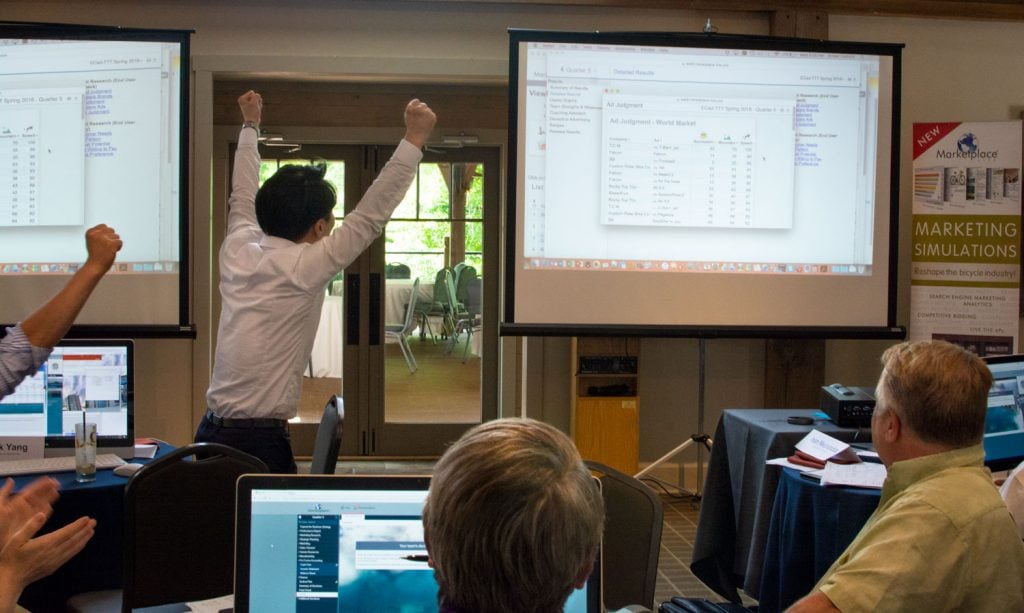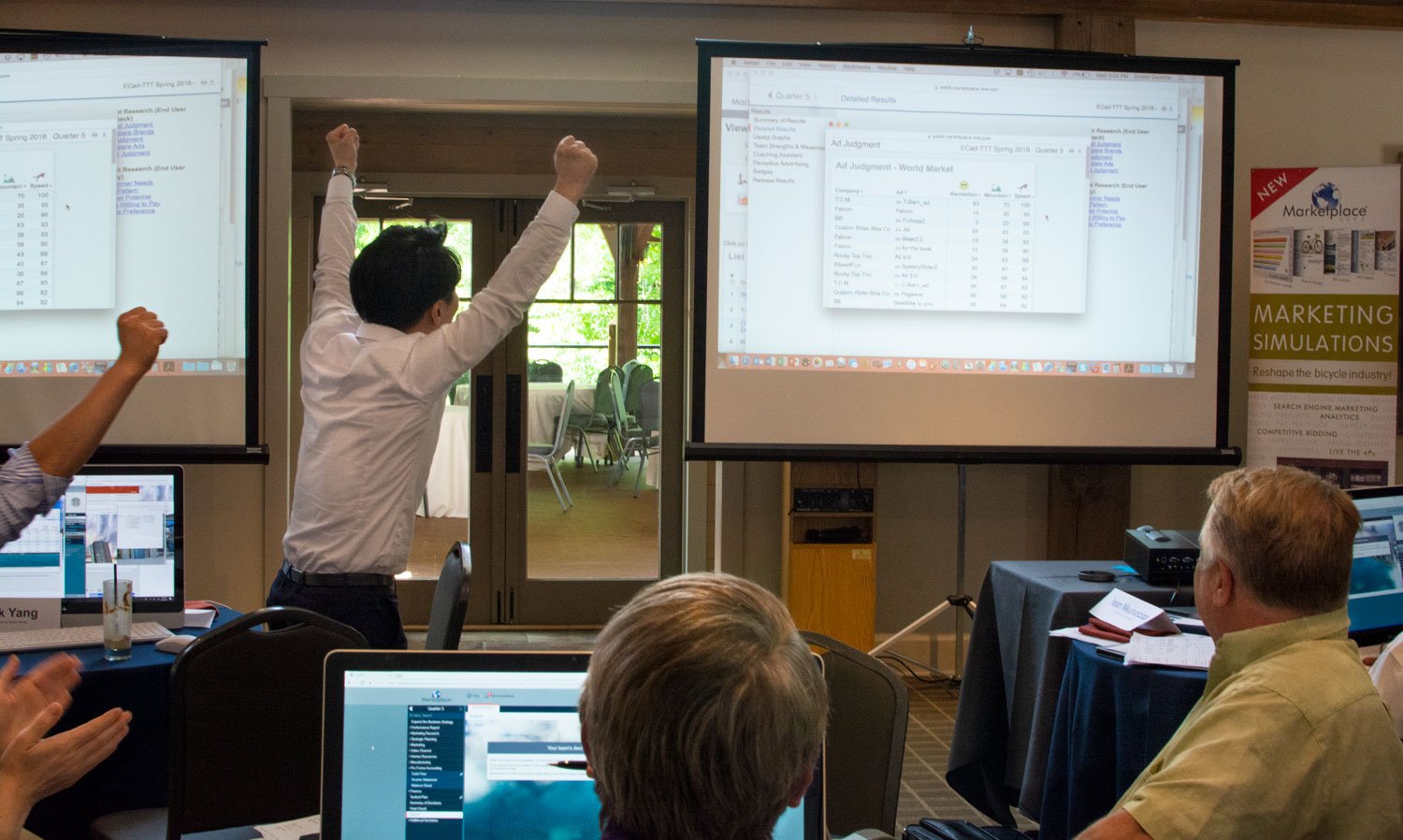 This has been my best and most interesting business class I have taken my entire college career. I have never felt like I did so well in any of my other classes. And I also thought that I would never like a business class until I entered your class and had the opportunity to use Marketplace.

Melissa Martin, estudiante, Colegio de Bryant
Best simulation I ever used in my many years teaching at Penn State, Nebraska, Drake, FIU and Southwestern University. Most missed aspect of my retirement. Marketplace seems to be the most memorable course mentioned by my previous students.

Ira Dolich, Universidad del Suroeste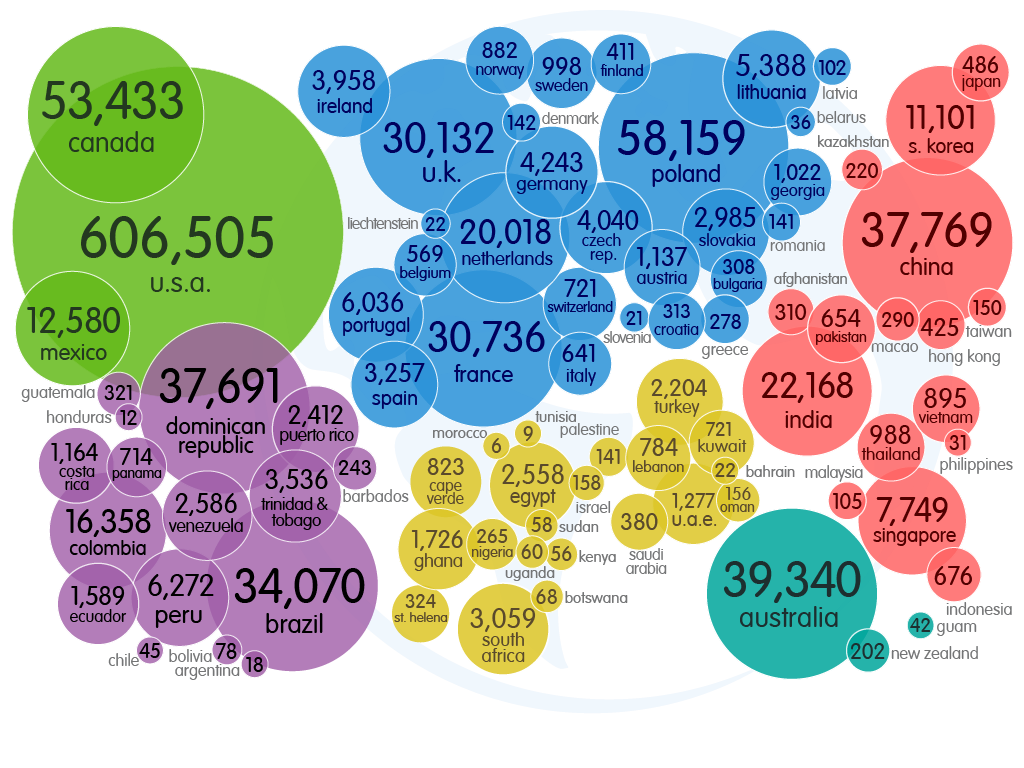 Únase a una comunidad de rápido crecimiento de educadores de negocios empoderados
Over 700 Schools
1,000,000+ Students since 2001
Over 80 Countries