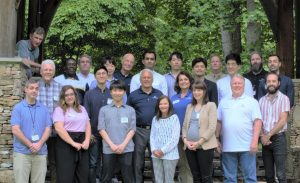 Knoxville, TN – Marketplace Simulations held their bi-annual Train-the-Trainer Workshop on May 21-23, 2018 at the Dancing Bear Lodge and Appalachian Bistro. Higher education faculty and trainers from around the world converged on Townsend, TN to take part in the two-and-a-half-day seminar.
The interactive program provided educators with guidance on achieving their pedagogical goals, not as teachers, but as business coaches. Designed to provide faculty with an in-depth understanding of how business simulations can transform the student learning experience, the workshop dove into the ins and outs of using Marketplace as an educational teaching tool.
Attendees pitted wits against each other in teams of three as they experienced firsthand Marketplace's newest simulation – Venture Strategy Bikes. The faculty played the business simulation from the students' perspective, as they looked to launch a new firm in a safe virtual environment. Team members ended the competition by presenting their strategies and results at the Venture Capital Fair, providing each instructor with valuable experience that they can carry forward to their own courses.
Other activities and discussions included:
Setting up the simulation
Defining your role as a business coach
Executive briefing experience
Best pedagogical practices to optimize the learning experience
Questions and answer sessions with the Marketplace staff
"This workshop has helped me learn to be a better coach, providing tips and techniques that I plan to put into practice starting next semester," said Keith Murray, Ph.D., professor of marketing at Bryant University. "As educators we need to incorporate more learning exercises, like simulations, into our curriculum. Marketplace is fabulous because it compels students to look at managing business and all of its complexities, preparing them well for the real world."
The 2018 spring Train-the-Trainer Workshop hosted participants from as far away as South Korea and Pakistan, providing an international flair. The roster of attendees included:
Syed Mohsin Ameer – Sukkur IBA University
Paul Choi – Paul & Mark
Barbara Dalby, Ph.D. – University of Mary Hardin
Guy Deloach, Ph.D. – Lee University
John Grant, Ph.D. – Ohio Dominican University
Wooram Han – Paul & Mark
Lindsay Mahony – University of Tennessee, Knoxville
Yeongjun Mun – Paul & Mark
Keith Murray, Ph.D. – Bryant University
Jean Nkurunziza – Lawhorn CPA Group
Hyunwook Park – Paul & Mark
Ed Southeard – Chattanooga State Community College
Wallace Weiss – Central Michigan University
In-Seok Yang – Paul & Mark
Jemyung Yum – Paul & Mark
"The Train-the-Trainer Workshop is a focused experience, allowing faculty to totally immerse themselves into the pedagogy of simulation learning," explained Ernest Cadotte, Ph.D., author of Marketplace Simulations. "Since conducting the first seminar in 2004, we aim to provide attending facility with great ideas on how to seamlessly adapt the simulation into their own classroom, providing their students with an enriched learning experience."
Registration is now open for the fall 2018 Train-the-Trainer Workshop. The seminar will take place near the foothills of the Great Smoky Mountain National Park from September 24-26, 2018. Dancing Bear Lodge and Appalachian Bistro will once again play host to the interactive training event. Visit marketplace-simulations.com/TTT to preview the workshop agenda and testimonials from previous workshop attendees.